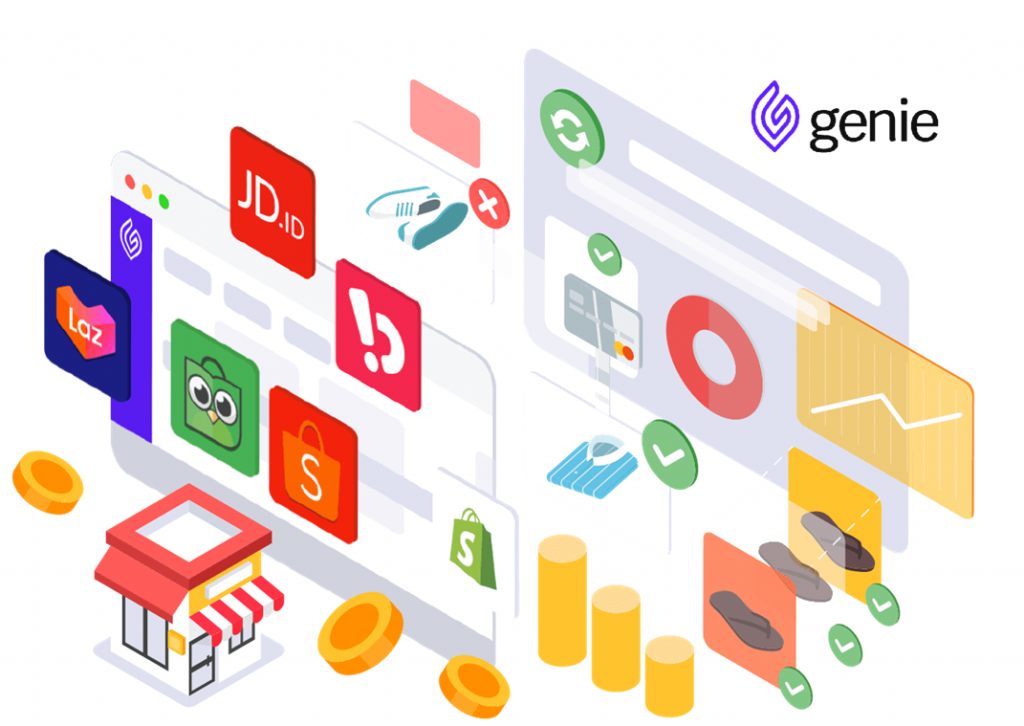 Do you have an online business that is registered in the top e-commerce platforms in Indonesia? Good! Perhaps, you might want to expand your online business, knowing that most people nowadays hype up online shopping? If you feel the need to handle all your business, ask help from Genie Omnichannel!
Genie Omnichannel, What Is It?
Genie is a regional cloud-based SaaS Omnichannel platform that aims to help merchants manage their online stores in many marketplaces. Genie has also affiliated with e-commerce platforms such as Tokopedia, Shopee, Lazada, JD.ID, Bukalapak, Blibli, and Shopify. If you own stores from those marketplaces, then, choosing Genie as a business helper is the best option!
Genie has useful features. You can do things related to business all at once in a single dashboard. Those features include product management, stock management, order management, promotion management, Genie Chat, Genie Fulfillment, plus analytics and reporting. Each element can definitely boost your sales, save time, and budget!
What Has Genie Omnichannel Accomplished?
Talking about triumph, Genie has achieved diverse accomplishments. Since its soft launch on January 2nd, 2020, Genie has been expanding the service in order to widen the merchants' business opportunity and customers throughout Southeast Asia. It takes only a year to make the name 'Genie' blow up!
Genie Indonesia has gathered more than 47.000 merchants with 77 million Stock Keeping Unit (SKU). Not only that, the total of over 57.000 active online stores have decided to cooperate with Genie, resulting in 70+ million orders. Especially due to the pandemic, Genie has also processed approximately USD320 million dollars of the gross product value.
Based on the 50% of people who have experienced their business journey with Genie Omnichannel, admit that their sales are showing constant increase. That can be calculated in numbers; 80% of both sales increase and work efficiency. What a huge number!
What Do Genie's Loyal Customers Say?
Genie has not only achieved great numbers in helping merchants manage their stores and simplify their needs in doing business, but also trust! Good news is, those who have been utilizing Genie as an Omnichannel third-party gave amazing reviews toward the management system and dashboard operation. Wanna know more?
Gramedia – 5 Star!
George Souisa, as the COOC of Gramedia, said that using Genie has been giving more benefits than before. According to Souisa, Genie has become the most excellent Omnichannel platform when it comes to handling products, orders, customers, and serving the best solution to overcome any problem.
NTZen – 5 Star!
Based on NTZen, Genie for them is like an angel coming from heaven! Genie can definitely help them in doing copy-paste products and store information from one to another easily. Plus, the stock management feature is best to be relied on. NTZen has not gained any complaints from each of theri online stores yet. Which means, good news!
Toko EFBI – 5 Star!
Toko EFBI sells food and beverage products on marketplaces. They are greatly satisfied with the Genie Chat feature. Genie Chat is one of the useful features from Genie that enables merchants to read and reply to all chats from different stores and marketplaces.
Toko EFBI said that using Genie Chat, they are able to respond to their customers quickly due to the sophisticated digital management system. They do not need to open each store in a different marketplace to be responsive. Only with a single Genie's dashboard, customers are well-served!
Have Further Questions? Ask Genie Now!
Do you have questions related to Genie and how it works? Ask Genie's customer service! Do not wait any longer, Genie will always prioritize your questions and problems!
Register Genie Omnichannel, Get Free Trial!
Who wants a free trial for 7 day full to enjoy all the features of Genie Omnichannel? You definitely can if you register to Genie now! Turn yourself into a millionaire by managing your online business more efficiently. Save time, save budget, and boost sales increase! Do not miss this opportunity, let's try or regret later!